YouTube, the Google-owned video network, boasts over a billion users — almost one-third of all people on the Internet — and every day people watch hundreds of millions of hours on YouTube and generate billions of views.
You already know video is an important channel, and you're ready to start leveraging YouTube for your own business. I'm here to show you how to do it.
This article will cover everything you need to know about how to make a YouTube channel, so you can start uploading your own videos, growing your audience, and make money now. Here's how to do it in easy steps:
Create a YouTube channel using your Google account
If you have a Google account, you can watch, share and comment on YouTube content. However, a Google account doesn't automatically make a YouTube channel. Getting a new channel set up is a simple and quick process, though.
Go to YouTube and sign in
Head over to YouTube.com and click 'sign in' in the top right corner of the page:
Then log in using the Google account you'd like your channel to be associated with:
After you Sign-in
Head over to your YouTube settings
In the top right corner of the screen, click on your profile icon and then click "Create a channel".
Create your channel
Next, you'll have the option to create a personal channel or a create a channel using a business or other name. For this example, we'll choose the "Use custom name" option, which is recommended for small businesses and brands:
Next, you'll name your channel.
Note: As you'll see from the settings at this step, creating a new channel name will also create a new Google account with its own settings and YouTube history. This account nests within your main Google account and can be fully managed from the Google settings. It's quite useful as you can use this new account to like and comment on other YouTube videos and participate in YouTube as your brand.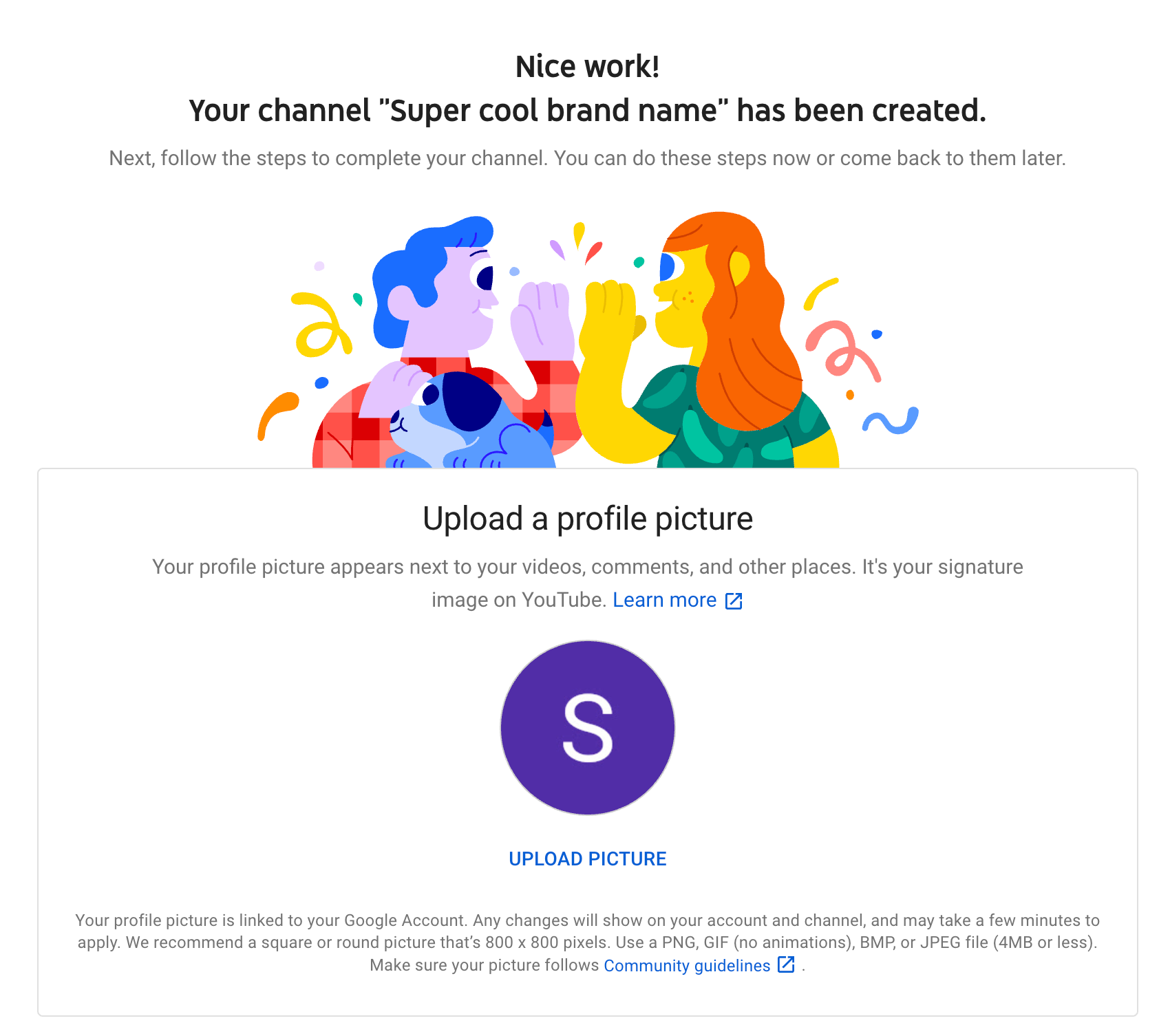 Congratulations! You've just created a new YouTube channel! 🎉
After this step, you'll have the chance to further customize your channel.
Customize Your Channel
You will see a customize channel button on the right side of your screen, click on it.
Uploading a profile picture
Adding a description of your channel
Adding links to your sites – this can include custom links to a website or blog as well as social links to Instagram or Twitter
Add videos and optimize them
To upload your first video to YouTube, click the "Create" button in the top-right corner and follow the prompts.
However, while adding the videos, it must be ensured that the videos have titles, descriptions (1000 words maximum), tags and are also labeled under certain categories so that users making similar searches can view the channel. Click to know – This Was The First YouTube Video Ever To Be Uploaded #DidYouKnow (digitaldumdum.com)
How to create a YouTube channel if you

don't

have a Google account
If you don't have a Google account set up, you'll need to create one before you get started on YouTube. To do this, simply follow the steps:
Head to YouTube.com
Click 'Sign In'
Now, choose the option to create a Google account
Follow the steps to create your Google account
Now, you're all set up with a Google account and can follow the above steps to create a YouTube channel.
Author: Sanchit Rathod
What should my YouTube Channel be about?
You should always start a channel about a topic that you are interested, have good knowledge and you would be able to create videos on that or you will quit midway.
What is the YouTube Channel Banner Size?
YouTube Channel Banner size is 2560 x 1440 pixels.
Minimum Dimensions for upload is 2048 x 1152 pixels
Maximum Width 2560 x 423 pixels
Maximum file size – 6 Megabytes
How do YouTubers make money?
YouTubers make money from sponsorships, ads, affiliate links, and products(digital & physical)
How to get a tick sign for your YouTube Channel – Verification Badges
You can get your YouTube Channel verified and get a tick sign for your account once you have more than 100,000 subscribers.